Ditch the Ordinary
That's why we're here to revolutionize your weekends and introduce you to the vibrant world of Calçotada cuisine. Our mission is to infuse every meal with the essence of Catalonia, transporting you to the bustling streets and lively markets of this culinary paradise.
VISIT US OR DO IT AT HOME
More than just a meal—it's a vibrant celebration of flavors, friends, and cultural heritage.
"Amazing food experience. Super nice traditional Calcotada in the Netherlands. Had a blast with friends!"
Jolan Hulscher
"Spectacular calçotada service: a good amount, served on a tile, cooked as needed, fresh romesco and accompanied by sausage with pearl aioli. Complete experience.
Friendly and professional owner, good ambassador of Catalan culture."
Joan Vilalata
"I cound never imagine that an onion could be so tasteful and fun!"
Lian

"Goes the extra mile to deliver fresh calcots!"
Richard Debot

"Incredible to find a calçotada menu in Eindoven and spectacular treatment."
Fernando Martínez Fernández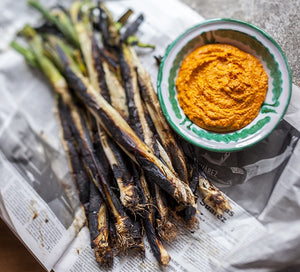 Taste a Culinary Delight
Indulge in the culinary delight of Calçotada at La Calçotada, where iconic dishes and vibrant flavors take center stage.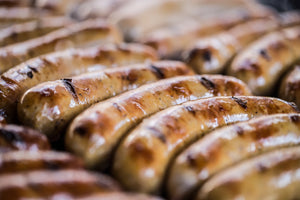 A Journey Through Culinary Traditions
Embark on a culinary journey through Catalonia's rich traditions with La Calçotada, savoring grilled calçots, Catalan delicacies, and more.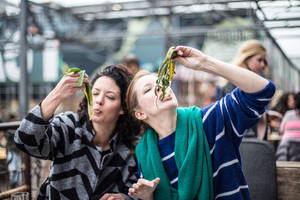 Escape the Ordinary
Escape the ordinary and immerse yourself in the extraordinary flavors of Calçotada at La Calçotada, creating memorable moments on your palate.
Categories
Can I change the date of my tickets?

You need to do it at least 14 days before the event. We need to plan ahead to haves and source our products and do not generate waist.

If you can't come on those dates and you want to resell your tickets you can use do it on TicketSwap.
Are drinks included on the menu?

No drinks are included, you pay for a three course closed menu.

Our partner restaurants allow us to host the events by providing a great menu of drinks.
Will you have porrons?

Yes, you can have the drinks with a porró.

You will need to add it on your order and 15€ will be deducted from you account. If you return the porró we will return you the money.
Do you have a kids-menu?

No, hour menu if for adults. However, you can order food from the restaurants menu cart.

They have plenty of options for kids.
Are we sitting outdoors?

No, you will be sitting comfortably inside while we are grilling the calçots outside.
Do you have vegetarian options?

Yes we have vegetarian menu. There are locations that only offer this options like Kaap Amsterdam.
Why I do can't order a meat menu?

We adjust our menu according to our partner restaurants. In Kaap Amsterdam we will have only vegetarian options, as they are a 100% vegetarian restaurant.
Can I change the date or address of my order?

Yes, but it has to be done 5 days before the delivery date. If you change the date or location package carrier we do not assume the lost, damages, or delays on the delivery.
Can I return the calçots?

Yes, only if you can prove that the products are not consumable.
When will I receive the my box?

You will be notified by mail between 3 to 5 days before you Calçotada, once we hand over the boxes to our carriers that bring them at home.
Where do you grow the Calçots?

We grow the Calçots in Catalonia, in Mataró. We work with organic farmers that produce sustainable calçots.